Fully 3D-printable wind-up car gift card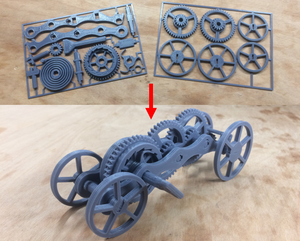 DESCRIPTION
This wind-up car gift card is the ideal present for your friends and family. Everything on this wind-up toy car is 3D-printable, the spring, shafts, gears, wheels, everything! There are no other parts/tools necessary except for your 3D-printer and some filament (although a small hammer and a knife would be useful but not necessary).

You can make you friends happy by giving them a nice present and at the same time you can show them what is possible with 3D-printing. I created an easy instruction manual to add to the realism of building a real model kit.


DETAILS
See my latest Davinci catapult gift card here: https://bbprojects.technology/blogs/projects/3d-printable-davinci-catapult-gift-card
You can chose to print the 2 gift cards to give them to someone as a gift or to just assemble it yourself and relive some of your childhood. You can also print all the parts separately so you don't have to remove any card material. The whole car can be assembled without the need for any glue.
The print time for gift card 1 (the one with the most parts) is about 4 hours. The print time for gift card 2 (the one with the wheels) is about 2 hours. I decided to print them with 100 percent infill because there wasn't that much of a difference with 25 percent infill, the print time was about the same. Another reason for 100 percent infill is that the spring is being printed better. I tried to arrange all the parts on the card so that it is possible to print the 2 cards in 2 different colors and still look good (eg: not 1 wheel on one card and the 3 others on the other card).
The original idea to make a 3D-printable gift card came from the Christmas reindeer model that I saw on a website. I thought it would be very nice to design a gift card with some mechanical pieces so you could show people what is possible with 3D-printing (combination of gears, springs, clickers). Everything is build up from scratch. Mainly because all the parts had to be relatively flat in order for it to become a card.
I used fusion 360 to design all the parts, mainly because it has an easy to use gear generator and because (in my opinion) fusion is a very user friendly program.
Print Settings
Filament used:
Printer used:
Flsun Q5 
Supports:
No
Resolution:
0.15
Infill:
25-30% 
CuraEngine settings:
 *4h print time is achieved with a print speed of 65-70mm/s, 0.15mm layer heights and an infill of 25 percent.
Video: